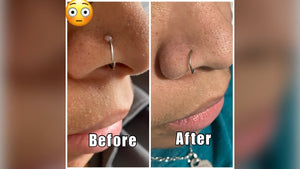 BodyJ4You Piercing Bump Aftercare: How To Heal Keloid Scars
Did you know that after getting a piercing you could develop something called a keloid scar, otherwise known as, a piercing bump? What exactly is a piercing bump and why does it form? Let's dive into it..
What Are Keloids (Piercing Bumps)?
Keloid scars are reddish, brown, thick raised scars that usually form around the earlobes, shoulders, chest, or cheeks. They are created due to surgery, accidents, acne, or getting pierced. They can also be caused by other body modifications. They can take anywhere from a few weeks to many months to form. These scars are nothing to be worried about and cause no physical harm (minus potential irritation) but their appearance may leave you feeling self-conscious. The key to healing these scars is to be treated for them as soon as possible so once they arise take action immediately. Thankfully, there are products on the market to help with the reduction and healing process of these scars!
Piercing Bump Aftercare Treatment 
There is an excellent new product out right now called BodyJ4You Bump Solution. This product is a liquid solution that can help reduce the size, redness, hardness, and appearance of piercing bumps, scars, and keloids. The keloid shrinking drops penetrate the skin's surface, aiding in the formation of collagen, securing hydration, and fostering cell renewal. Using this solution daily will help speed up the healing process of your scar and can be used in case future scars may develop. This treatment can be used in the comfort of your home and does not require the assistance of a doctor unless needed. 
What Ingredients Are In This?
BodyJ4You's Bump Solution is made up of all-natural ingredients that are each known for their healing properties. These ingredients include Grape Seed Oil, Jojoba Oil, Lavender Oil, Rosemary Leaf Oil, Turmeric Root Oil, Clove Oil, Vitamin E, Rosa Rugosa Flower Oil, Citronella Oil, Pelargonium Graveolens Flower Oil, Boswellia Carterii Oil, Cananga Odorate Flower Oil, and Eucalyptus Oil. There are no artificial ingredients in this solution so you know that you are getting healing power directly from nature. 
How Do I Use This Product? 
This product is very easy to use and helps speed up healing when used properly. Use the dropper inside of the bottle to place 1-2 drops on the affected area of your body. Rub the oil gently onto the area, making sure it is massaged into it well. In order for efficient healing and best results, use these drops 2-3 times each day. Continue to do so until you see desired results. Make sure to not skip any days in the healing process to ensure that you have taken the necessary measures for best healing results. Be patient with results because each case is different and healing time depends on the severity of your scars.
How Do I Avoid Getting Piercing Bumps?
Getting piercing bumps is no fun and can get very aggravating and stressful. Here are some tips on how to avoid them. 
1. Loose fitting jewelry can sometimes irritate the cartilage on your ear and cause piercing bumps to form. Try using tight fitting earrings with proper backs to ensure that the earring does not have any room to move around in your ear hole.
2. Avoid bumping into your piercing or snagging it. For the first few weeks it may be a good idea to sit upright on your pillow if you got your ears or nose pierced to avoid your pillow irritating it. Another tip if you have long hair is to keep it tied back so that it does not get caught in the piercing as well. 
3. Change your type of jewelry. You may have an allergic reaction to certain types of jewelry which can cause dermatitis. Some types of jewelry use a metal alloy that contain nickel and can be sensitive to the skin.
Where Can I Find This Product?
BodyJ4You's Bump Solution can be found at BodyJ4You.com for an affordable price that you cannot beat! Try out the all-natural solution for yourself today!
---