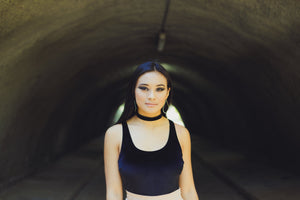 Are Chokers Still In Fashion?
If you go to music festivals, clubs, shopping malls, or really anywhere with an age demographic between 10-60, you have most likely seen people wearing choker collars. Chokers are a great accessory for a variety of different looks but before we dive into the different types of chokers and how to style them, we are first going to talk about where chokers first originated!
Origin and History of Chokers 
Wearing choker necklaces dates back to thousands of years ago with the first people to wear them being the Sumer empire in Mesopotamia and Ancient Egypt. Why did these women wear them you may ask? Women in these cultures wore them not just for appearance but for two main reasons: protection and power. Egyptian women especially believed that gold jewelry gave them superpowers because they associated it with the sun and life-giving powers of the Nile River. These chokers were elaborately decorated with multiple strands of beautiful beadwork and stones.
After this period in time the next era that chokers were popular again were during the Renaissance. During Alexandra of Denmark's reign as Princess of Wales, she became a notable figure in fashion and popularized her favorite piece of jewelry. They would continue to stay popular in the Art Nouveau period but faded after the Art Deco period in the 1930's. They didn't become popular again until the 90's where they were a major hit. Today, with the rise in 90's throwback culture, they may be more popular than ever with people donning them everywhere they go and truly embracing their inner 90's aesthetic.
Popular Chokers and How To Style Them
Tattoo Chokers: These are one of the most popular types of chokers on the market today. They are the true essence of 90's style and the nostalgia factor is why many people love to wear them. You can wear a simple black one or brighten it up with a rainbow or pastel color. They even have tattoo chokers with flowers or beads embedded into them and some even have charms!
How to Style: You can create so many different looks with these types of chokers. Simple black ones are good for an edgy, alternative look and are paired best with crop tops, flannels, band tees, and tanks. Colorful tattoo chokers look good with vibrant colored clothing and also pair very well with bright festival outfits. 
Leather Chokers with Rings: Another very popular type of choker are leather chokers that have rings in the middle. They come in many different colors such as black, white, and pink with black being the most popular color. They also can have different shaped rings such as hearts. Many people may associate these types of chokers with goth culture and that is very true but anyone can wear these types of chokers! They can be paired with many different looks!
How to Style: Like black tattoo chokers, these also pair well with an alternative, edgy look and some may even create an entire black look when wearing them. They are perfect for wearing to concerts or a night out at the club. White and pink chokers are perfect for summertime looks and actually pair well with swimwear! 
Leather Metal Spike Chokers: If you want to truly embrace the goth, punk, and/or metal scene then these are the chokers for you! These types of chokers were very common in the 90's and come in a variety of different shapes. They are typically black in appearance and are rarely seen in other colors.
How to Style: Like the two mentioned before, these types of chokers pair great with a metal, alternative style such as dark-colored flannels, black clothing, and band tees. They are definitely a very unique look and can be found on people in the mosh pits of your favorite metal/punk bands! 
Velvet chokers: These are slightly more simple than the chokers mentioned above. They can come in a variety of different colors such as black, burgundy, blue, green, ect. Some may even have charms dangling from them. 
How to Style: They are super soft and can honestly be paired with most any look such as basic tees, crop tops, and even dresses. Can be dressed up or down! 
Long Tie-Around Chokers: These types of chokers are long strands that can be tied around your neck typically more than once and can be styled a variety of ways. They come in a variety of colors such as black and burgundy. Sometimes they may have beads at the ends of them to give them even more pizazz. 
How to Style: These types of chokers are more fashionable than your average choker. They pair great with a basic tank but also can add a nice finishing touch to a dress.
No matter which style choker you choose, know that you are making a fashion statement by wearing one! Check out all of the beautiful different types of chokers that BodyJ4you has today! 
---