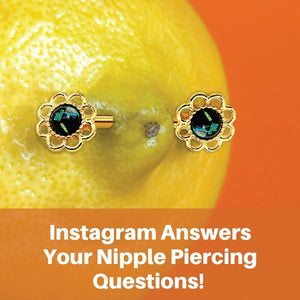 Instagram Answers What You Need To Know About Nipple Piercings!
Let's talk about female and male body piercings....nipple piercings to be exact. We went to Instagram and asked "What was your nipple piercing experience like & are you happy with it?". Once we asked this question we received lots of great comments about individuals nipple piercing experience's, responses about nipple piercing healing times and after care, and those thinking about getting a nipple piercing done! With all the responses we received we want to share this valuable information with you! The purpose of this post is to share these experiences with you so you have an idea of what to expect when getting your nipples pierced. If you would like to add any suggestions or responses, please leave a comment on this post and we will add your response to the post.
Responses from BodyJ4You's question "Are you happy with your nipple piercings? & What was your nipple piercing experience like?"
The views and opinions expressed in this blog are soley those of the Instagram users and other contributors. The views and opinions do not necessarily reflect the official policy or position of BodyJ4You.com. If you wish to voluntarily use any of this information displayed you assume the risk of any resulting injury.
---