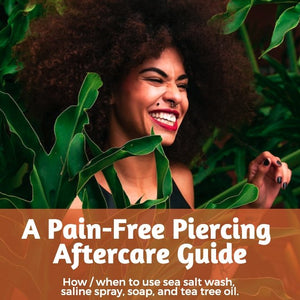 Piercing Aftercare - How to / when to use sea salt wash, saline spray, soap, and tea tree oil on new and healed piercings.
A Pain-Free Piercing Aftercare Guide
Caring for a fresh piercing can be daunting, with worries of uninvited pain and scares of infection. But not to fear, here is a pain-free aftercare guide for your new piercing!
Below you will find how to care for your new piercing and learn more about saline sprays, saline rinses, and aftercare soap.
Some Things to Keep In Mind
As a preventative measure, ask your piercer to use a needle instead of a piercing gun. There is more accuracy with a piercing needle, less damage to the surrounding tissue, and it's sterile. 

A healthy diet and a low-stress environment are crucial after getting a piercing to encourage fast healing and decrease the chances of infection. Make sure to keep hydrated!

Avoid additional trauma to the affected area by taking precautions to make sure your piercing doesn't bump, snag, or have applied pressure while sleeping.

Avoid submerging your piercing in a bath, lake, pool, or hot tub.
Caring For Your New Piercing
Wash your hands thoroughly with soap and water before touching or cleaning your piercing.

Use a saline rinse or spray as needed during healing, at least twice a day.
Depending on the location of your piercing, it may be easier to clean with a sterile gauze pad soaked in a saline solution or spray directly with a saline spray. If your piercer advises to wash with soap and water instead, use a gentle soap that does not contain triclosan as it can damage your healing piercing. Make sure to rinse away all traces of soap in the piercing.
Try not to turn your piercing, as this can hinder the healing process.

Gently pat dry with clean disposable paper products because the cloth can harbor unwanted bacteria.
Saline Rinse & Spray
A saline spray or saline rinse is a gentle choice for piercing aftercare. It can be used on typically any piercing but make sure to consult with your piercer for any specific aftercare instructions.
This aftercare helps to soothe and remove dirt and debris from the affected area. Saline rinses and sprays help clean your new piercing. Depending on the piercing location, one may be easier to use than the other. 
Tip: When mixing a saline solution, a stronger mixture is not better. A salt solution that is too strong can irritate the piercing, so it's best to use the recommended amount or less.
Here are three great saline solutions for piercings:
Soothing, refreshing, and cleans both new and healed piercings. It's gentle on the skin, removes dirt and debris from the affected areas on your skin, and allows for recovery and maintenance that is healthy, hygienic, and healing. This purified saline makes a great cleaning spray for piercings and less work for you! Environmentally friendly, our wash is vegan and all-natural, devoid of CFCs, drugs, preservatives, or additives.
Using this Recovery Sea Salt, derived from the mineral-rich Dead Sea, a body of water almost devoid of pollution and sodium chloride, you can give irritated skin or new piercings an assuaging, all-natural recovery. The Recovery Sea Salt allows you to mix up to 60 sea salts for healing and therapeutic purposes. Meets PDV Standard. Recover, relax, and bring the Dead sea to the comfort of your home.
  Directions:
Measure 1 cup of sterile or distilled water.

Mix 1/4 tsp. Sea salt into the water, preferably while it is still hot.

Add 2-3 drops of tea tree oil and stir well.

Submerge your piercing into the mix for 5 to 10 minutes.
To dehydrate bumps, reduce scars, and encourage healthy skin after piercings and body modification procedures, combine our Tea Tree Oil with our Saline Solution according to your aftercare needs for a hygienic healing process and offer your skin the treatment it craves.
Directions:
Measure 1 cup of sterile or distilled water.

Mix 1/4 tsp. sea salt into the water, preferably while it is still hot.

Add 2-3 drops of tea tree oil and stir well.

Submerge your piercing into the mix for 5 to 10 minutes.
Aftercare Soap

Some piercers advise using gentle soap and water to clean your piercing. Here is a soothing and triclosan-free soap that is great for cleaning new piercings and old ones. Ensure to thorougly rinse away any remaining soap from your piercing before drying to prevent unwanted gunk from building up.
Aftercare Soap is a soothing serum designed to encourage a safe and healthy healing process for new tattoos, piercings, or even tattoo removal procedures.
Encourages a safe and healthy healing process
Vegan-friendly, rejuvenating formula
Biologist confirmed a pH range of 5–5.5
A gentle, soothing application
Know Your Rights When Getting Pierced
When getting pierced, you have the right to be fully informed about proper aftercare, both verbally and in writing, and to have continuing access to the piercer for assistance throughout the healing process. Be sure to talk to your piercer about specific aftercare needs for your piercing and know your rights before getting pierced! 
Here is a great link to do just that: 
That concludes our article. If you have any anecdotes to share, please leave us a comment! We will add it to this post.
Shop PIERCING AFTERCARE here: SHOP NOW
---