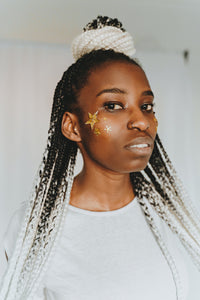 The Holiday Gift Guide for the Piercing Junkie in Your Life (for 2022) 
The holidays are fast approaching, so it's time to start thinking about what you're going to put on your list for Santa. Also, you might be thinking of what to get your loved ones. 
Whether they've been naughty or nice, some people are notoriously hard to buy gifts for, so we thought we'd give you some ideas. If they're a fan of body piercings and jewelry, all the better. 😉
Without further ado, here is your guide to what to get the piercing fanatic in your life! 
Pssst
: Keep reading until the end for non-piercing related gift ideas. 🙆‍♀️
Ear Stretching Gifts
Know someone who is thinking about stretching their lobes? Or maybe your friend is looking to go up a gauge size. If that's the case, we have the perfect gifts for them. 
We've got gauge kits in all shapes and colors.
Why not Get them this gorgeous rose gold stainless steel kit (also available in other colors)?
Or, if you want to give them more options for stretching, get them this multicolored kit with acrylic spirals and jojoba oil. 
If you know what size they want to go up to, and they like a surprise, get them this randomly selected gauge kit. You get five random plugs of one size (which you can select), an aftercare balm, jojoba oil, and a portable container, all included. 
Belly Piercing Gifts
Get your friend a brand new belly button ring to show off in the new year. We've got heaps of gorgeous belly piercing jewelry to choose from these holidays, so here are some of the highlights. 
This glittering set of floral belly rings is perfect for this time of year. With these they'll be ready for all the holiday parties. 
This opal naughtical belly ring is a great gift for the secret mermaid in your friendship group. 🧜‍♀️
If they like to change things up regularly, get them this 15-piece belly ring set. 
Piercing Aftercare Gifts
If you're buying for someone who has just got a new piercing (or a few), they will love you if you give them some gifts to help with their piercing aftercare. 
To help keep pesky piercing bumps away, get them this piercing bump aftercare treatment solution. 
If they've just got a new mouth piercing, they will really appreciate this sea salt solution mouthwash. 
Give them the works with this piercing aftercare kit, including a saline solution spray, jojoba oil, and our ear stretching balm. This is best for someone who has got a range of new piercings and is stretching some old ones. 
Gifts for People With Mulitple Piercings
More likely than not, the person you're buying a present for has more than one piercing. This is where a versatile gift comes in handy. 
Why not get them a gorgeous straight barbell? This is one of the most versatile pieces of body piercing jewelry. You can use them for nipple piercings, tongue piercings, cartilage jewelry, or industrial piercings. 
If you're looking for something simple but stylish, get them these steel barbells with clear crystals. 
If you want to give something with a pop of color, get them these flower barbells with black and green gemstones. 
Another piece of jewelry that suits multiple piercings is the segment clicker ring. Ready to use for a septum piercing, helix, tragus, nipple piercing, lip, or eyebrow piercing, the clicker ring is perfect for any body piercing addict. 
Our simple segment rings come in many colors, like this rainbow segment ring.
If you're looking to splash out for something special, get them this gold-lined opal segment ring. 
Gifts for People Without Piercings
But what about if the person you're buying a holiday gift for doesn't have any piercings? No need to panic. We've got you covered. 
Clip-on Piercings
Fake piercings are great for those who want to try before they buy (or rather permanently pierce their skin). We have a range of clip-on piercings for that person in your life who is still deciding if a permanent piercing is for them. 
Maybe they are considering a classic nose ring. This clip-on nose ring is a perfect way to try out this popular piercing before making a lifelong commitment. 
If they're thinking about taking a bigger step piercing-wise, get them this set of clip-on septum piercings so they can mix and match to decide if it's really for them. 
They could be considering a number of different piercings; there are so many to choose from. Let them be indecisive with this clip-on spring hoop. You can wear it as a cartilage piercing, a nose ring, or a septum piercing. 
Choker Necklaces
If you're buying for a fashionista that isn't into piercings at all, never fear. We have a large range of on-trend choker necklaces to choose from. They're fun, come in so many colors, and make a great stocking filler. 🎅🏻
If they go for the surfer chic, get them this set of shell choker necklaces. 
Maybe they take on a more gothic look. Then this set of velvet choker necklaces will be perfect for them. 
For a cute Christmassy gift, why not get them this Santa hat tattoo choker?
Or maybe you want to give them a lot of choice, so they can wear a new choker every day. Then this 24-piece choker set is right up their street. 
Here are just a few ideas of what to get your jewelry loving loved ones for the holidays in 2022, whatever their style. For more ideas, check out our newest arrivals to get them the latest body piercing jewelry and chokers hot off the press. 
---