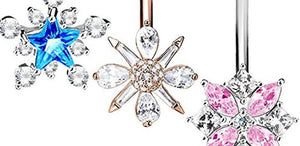 Body Piercing Holiday Gift Guide 2020
With the holidays around the corner and the pandemic keeping us all at home, shopping for gifts can be a bit of a challenge. I think everyone can agree that thoughtful gifts are the best kind of gifts. So we made a holiday gift guide to help you do just that!
Tips For Thoughtful Gifting
When choosing a gift for a loved one, here are some things to keep in mind that may help to make your search easier:
Metals

- Pay attention to what kind of metals they prefer to wear, such as silver or gold.

Lifestyle

- Do they have an active lifestyle that determines what kind of jewelry they wear?

Style

- Is their style classic, dramatic, romantic, or modern? Do they like piercings or jewelry that stand out or subtly compliment them?

Plans

- Do they plan to get a new piercing soon? Are they collecting jewelry for a curated ear? Do they plan to stretch their ear lobe piercings?

Size

- Do they need a specific gauge size for their jewelry?
Gifts For Any Piercing
The daily care and aftercare routines play an important role in any piercings lifetime. Here are some products that help heal fresh piercings, maintain old piercings, prevent infection, clean, and moisturize.
    1. Organic Oils & Moisturizers
Tea Tree Oil - Helps prevent infection, reduce inflammation, and sanitize piercings. 2 -3 drops can be added to a saline solution for a hygienic healing process. It makes a great all-purpose cleaner that also sanitizes surfaces without leaving traces of chemicals and smells great!
Jojoba Oil

- Helps keep piercings moisturized, minimize crust on new piercings, reduce irritation, and aids in healing. It can be used multiple times daily. Studies show that jojoba oil speeds up wound closures and stimulates collagen synthesis.
Gauges Stretching Balm

- A premium ear stretching aftercare cream to maintain stretched ear lobes. It contains a natural blend of emollients and moisturizers, including Karanja oil, Jojoba Oil, and Soy Butter.
Recovery Smelly Gelly

- Conditioner comprised of natural emollients and essential oils. Antimicrobial and anti-inflammatory properties. Assuaging, cleansing, and deodorizing effects. Moisturizes and soothes inflamed skin around piercing sites. It can be used as a lubricant for inserting large-gauge jewelry.
    2. Cleaning Solutions
100% Dead Sea Salt Saline Rinse

- Using this Recovery Sea Salt, derived from the mineral-rich Dead Sea, a body of water almost devoid of pollution and sodium chloride, can give irritated skin or new piercings an assuaging, all-natural recovery.
BodyJ4you Saline Spray

- Our convenient purified aftercare saline wash sprays gently onto the skin, removing dirt and debris from affected areas on your skin, allowing for recovery and maintenance that is healthy, hygienic, and healing. Our wash solution is environmentally friendly, vegan, and all-natural, devoid of CFCs, drugs, preservatives, or additives. Spray your way to a clean and healthy piercing.
Aftercare Soap- A soothing serum designed to encourage a safe and healthy healing process for new tattoos, piercings, or even tattoo removal procedures. This vegan-friendly, rejuvenating formula is free of parabens, perfumes, or dyes. Many cleansing products claim a neutral pH level of 7, but our Aftercare Soap is happy to claim a biologist-confirmed pH range of 5 to 5.5, a level that is proven to be safe and compatible with the skin.
UV Sanitizer

- High-efficiency UV Light Kills 99% Germs and Bacteria on Smartphone, Jewelry, Face Masks, Keys, Earphones, Glasses and Other Personal Items within 5 Minutes. Harmless to Human Body, Portable, and Easy to Use. It's compact, stylish, and easy to use, making it a great gift option!
Gifts To Help Them Upgrade
If your special someone has earlobe piercings and they're thinking of stretching them to a larger size, our stretching kits can help with just that. Our kits come with everything they need to stretch without breaking the bank safely! If they are just about to finish their stretching journey, a set of plugs is the size gauge they aspire to be a motivating gift. Our unique glass jewelry is also a winner when it comes to gift-giving!
Gifts With Their Future Piercing Plans In Mind
If the person you plan to gift to has been talking about getting a certain piercing, but they're on edge about it, fake piercing jewelry can help!
If you know they will be getting a new piercing soon, help them prepare by having their initial piercing jewelry ready for that day! Click below to select surgical steel jewelry that is a good candidate for initial jewelry to start with.
SURGICAL STEEL PIERCING JEWELRY
If they experience piercing and safety and want to do it themselves, we have kits for those with such credentials.
Gifts To Keep Your Loved Ones In Style
Accessorize & Mesmerize! BodyJ4You's accessories are stylish and affordable. Check out the links below for plenty of giftable treasures!
This holiday season, treat someone special in your life with a thoughtful gift!
We hope this guide has helped guide you through the chaos of searching for gifts online. 
Happy Holidays!
If you have any anecdotes to share, please leave us a comment! We will add it to this post.
Shop BELLY RINGS, NOSE RINGS, SEPTUM, NIPPLE, TRAGUS, & 14 KT GOLD JEWELRY and AFTERCARE here: SHOP NOW
---