Curated Ear Piercing Trends and Stacked Earrings
All about stacked earring and the curated ear piercing trend.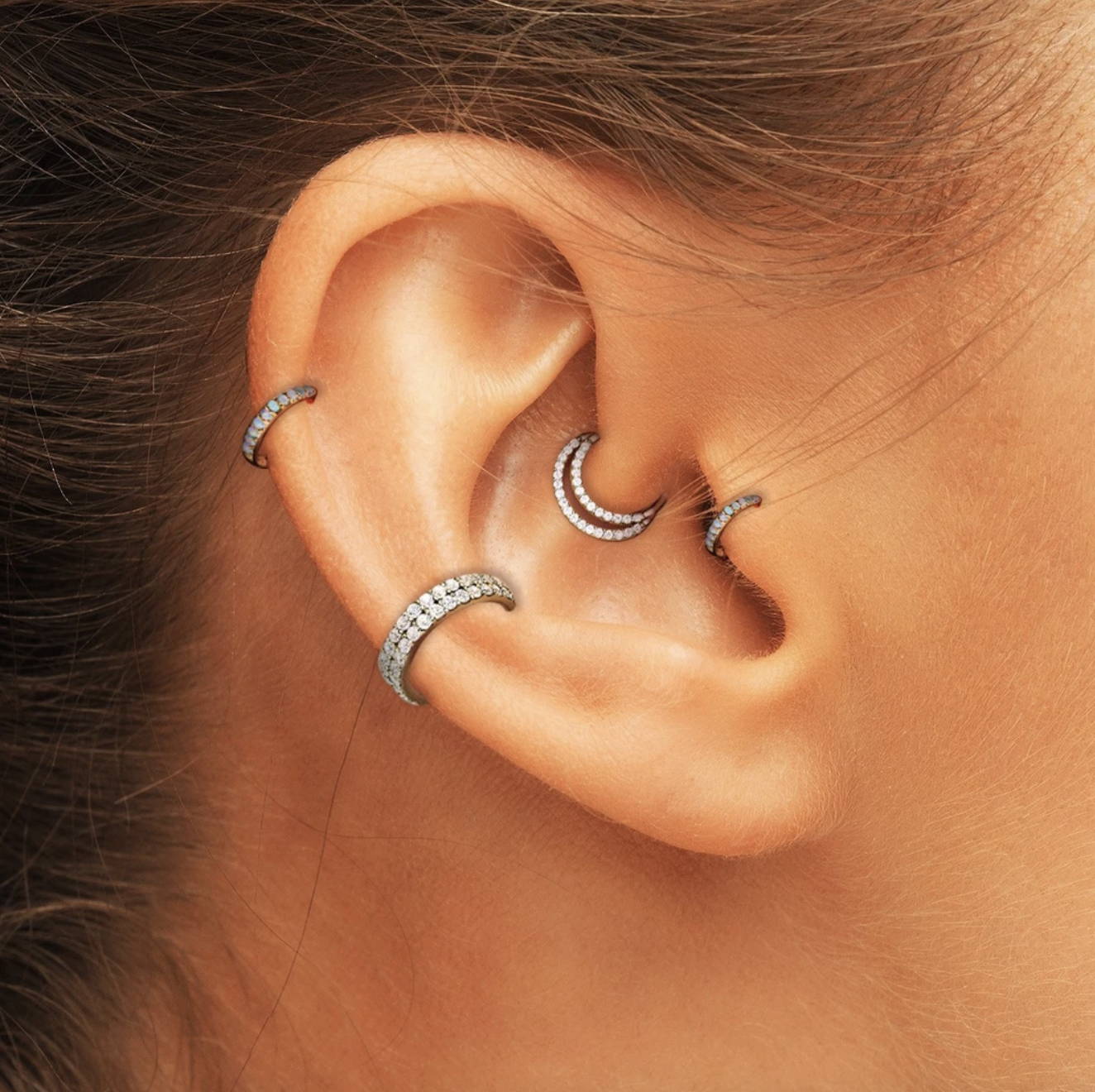 Social media is buzzing with this new piercing trend- Stacked earrings, multiple ear piercings or simply a curated ear. A quick Instagram search will produce thousands of results showing the different styles and ideas of this trend.
A curated ear is one in which the person has multiple small piercings to create an elegant look. These multiple piercings are often planned out and designed by the individual or the professional piercer. The planning and details that go into these looks makes each person so unique and beautiful.
There are so many piercing and jewelry options to choose from to curate your unique look. From hoops to dangling, to studs or ear cuffs, something is surely there for you. This form of Ear art is very versatile and allows persons to express themselves and enhance their personal style.
This trend is all about you and your personal desires, so it is important that you go with what you like. It is recommended that a person never gets more than 3 piercings at once to allow the body and piercings to heal properly. This will lower the chances of the piercing not healing correctly and causing further issues. However, there are some things you must be mindful of before you get the piercings.
Piercing guns are the most used instrument to do piercings. You can simply go to the mall and get your ear pierced quick and easy. But it may not the best way or safest way to do so.
Pros:
Affordable- it is cheaper to go to a store in the mall and get your piercing done

Convenient- this option is available in many places

Quick- you are in an out in a jiffy
Cons:
Cannot be sterilized- only alcohol or antiseptic pads are used to clean the piercing as it cannot be properly sterilized, nor all parts removed and cleaned.

Higher risk of infection- piercing guns use studs that have butterfly backs and can easily trap bacteria. This can lead to the infection of a new piercing.

Tissue damage- the piercing gun holds the blunt studs and forces it through the section to be pierced. This can cause tissue damage to the lobe or cartilage.

Difficult to aim and angle- piercing guns can be difficult to aim and mistakes are made where the piercing is in an awkward angle.

Risk of swelling- the studs used are sometimes made of a low-grade material which can cause an allergic reaction, infection and swelling of the piercing
Piercing needles on the other hand are safer, more accurate and less painful
Pros:
Single use (sterile)- Each needle is only used once so there is no risk contamination

Less painful

Accurate- needles are able to be aimed better and can be used to pierce anywhere

Less chance of infection- the needle is sharp and pierces through the skin quickly without any tissue damage, so healing is better and less likely to become infected
Cons:
More expensive

Inconvenient- it may be inconvenient to search for a shop that is able to provide needle piercings
Ensure you do your additional research and choose an option that works best for you.
Which are the best piercings to achieve the curated ear look?

A great start to creating your perfect curated ear is to start with a couple lobe piercings as these heal the fastest and hurt the least. Piercings for the inner ear lobe tend to be smaller in size, measuring around 1mm and uses a 18G ring. While the standard lobe piercing may use a 2mm or 12G ring.
You may then want to step it up by adding a cartilage piercing or a conch or daith piercing. These piercings hurt more than the lobe piercings, but the results are worth it. They also typically use small 16-18G rings to provide a dainty look. However, this all depends on your preferences and the look you are trying to curate.
If you are unsure if you should get the actual piercing or not, ear cuffs are your best bet. These cuffs can be worn to give you an idea of how the ear will look with the actual piercing without you having to do it yet. Cuffs can also be worn to fill the gaps until your other piercings heal and you can get more or if you simply want to change up the style one day.
The chart below shows a few different piercing areas on the ear and their names -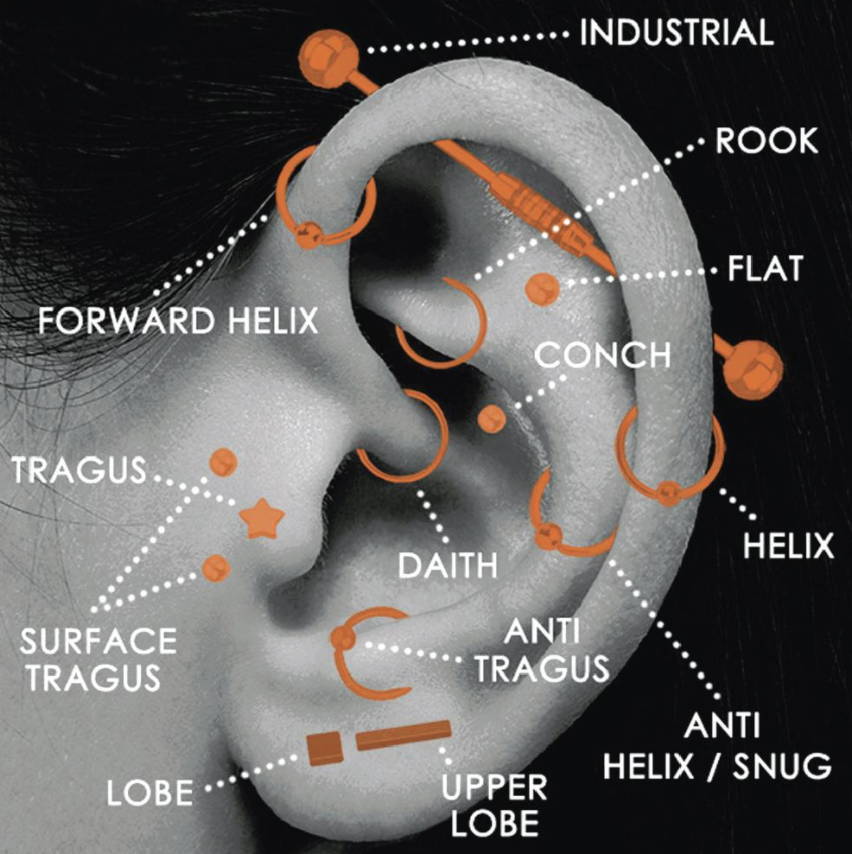 The most beautiful thing about stacking earrings is that you can add and change the different rings. You can rock studs, huggies, segment rings or hoops in the spaces to give a different aesthetic each time. But the aim is to bring across this aesthetic without the ear looking clustered or jumbled. Some professional piercers can assist in selecting the best colour scheme and the jewellry to use to bring it off.
Here are three curated ear ideas for your inspiration: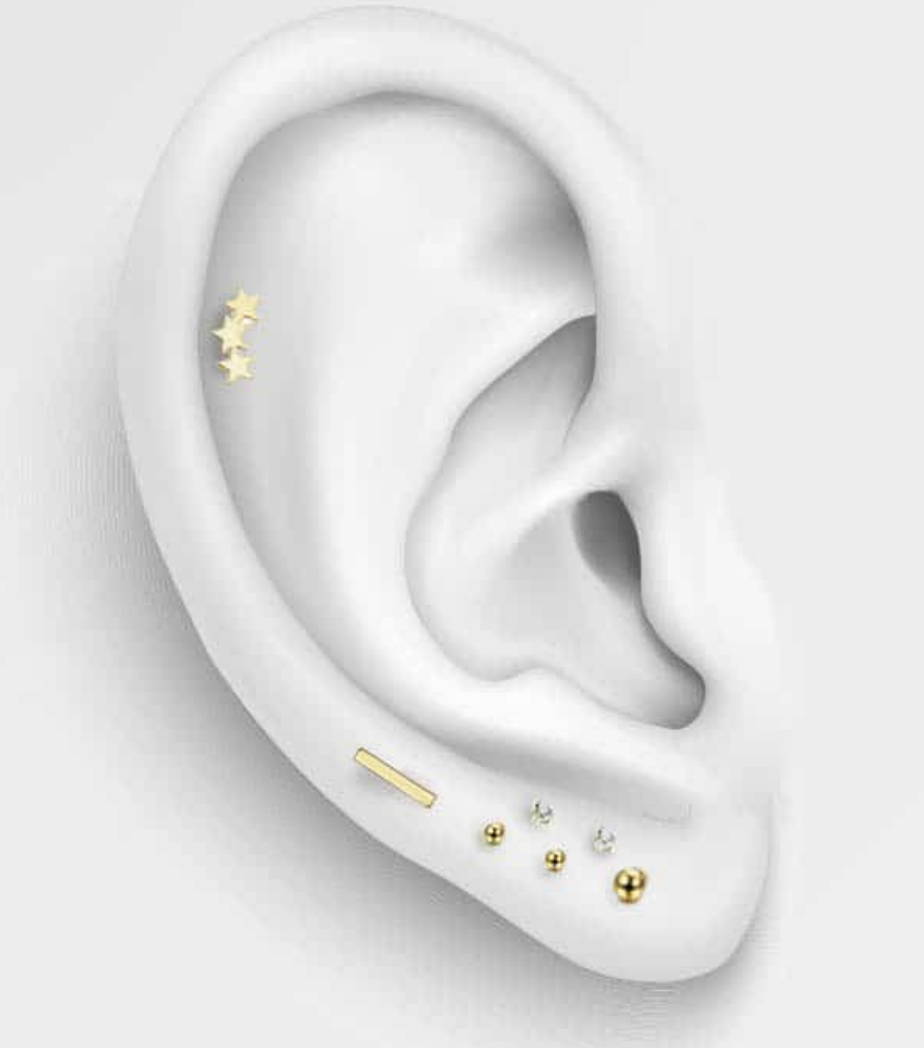 1.
This look was achieved by utilizing the standard and the inner lobes with gold and silver knobs as well as a helix piercing. These small earrings give the curated ear a dainty and elegant look.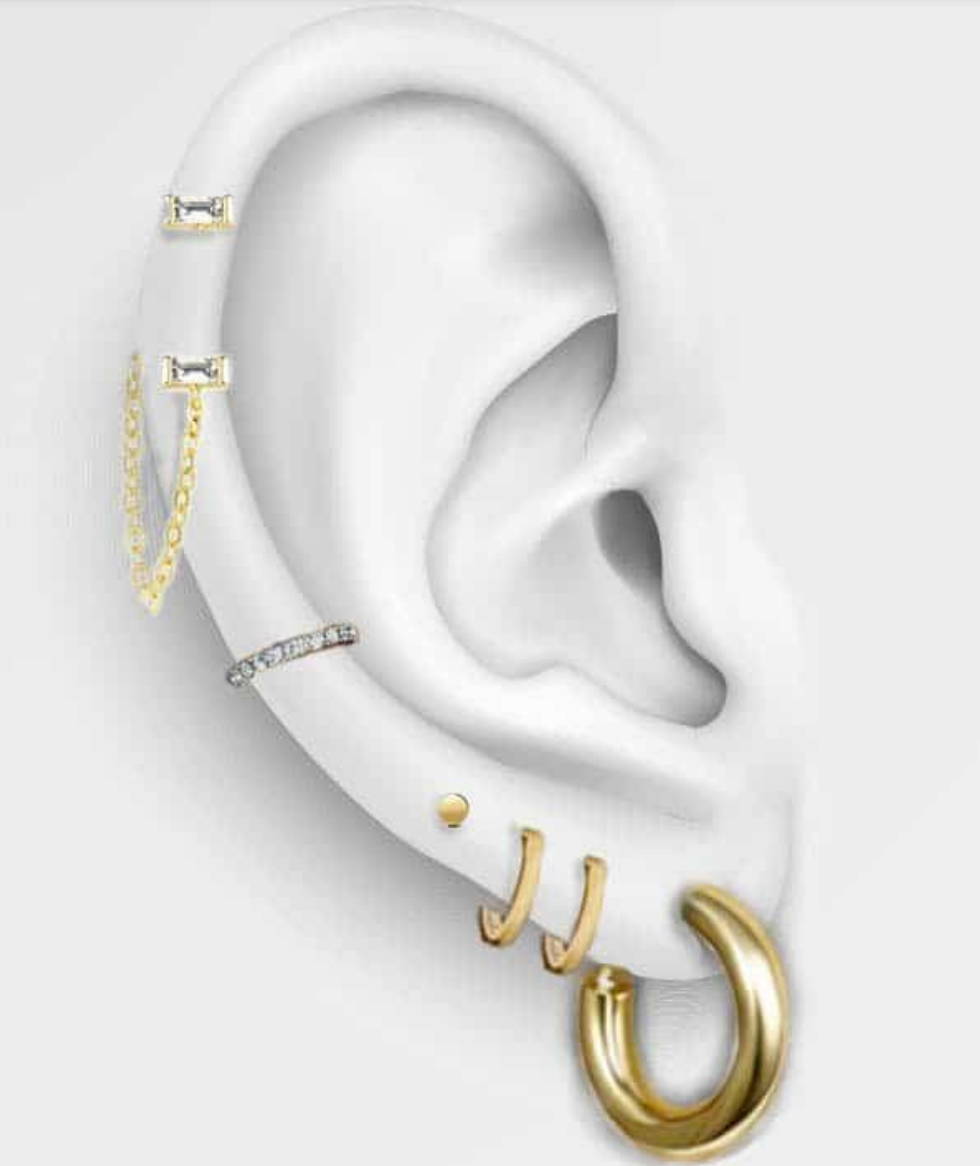 2.
This look was achieved by utilizing the standard lobe with 4 piercings, two forward helixes and an ear cuff. The small hoop and huggies give the ear an edgy look.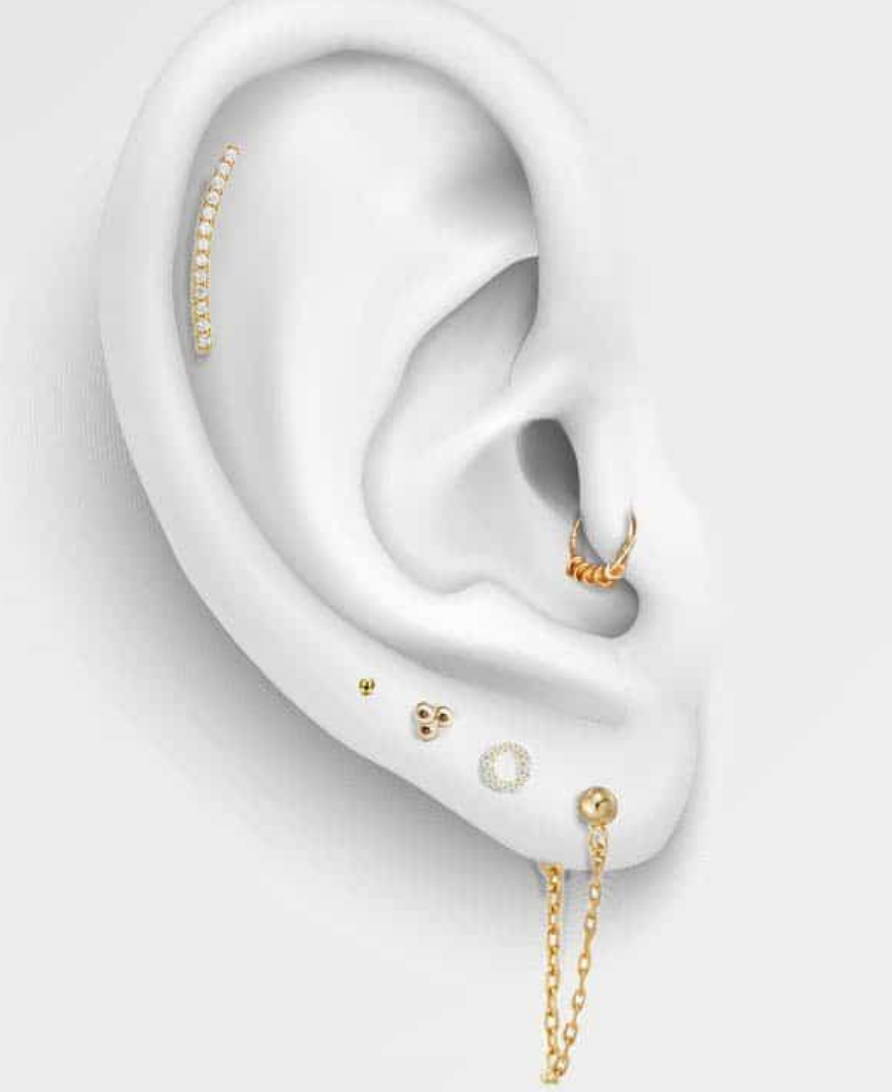 3.
This look was curated by using 4 piercings on the standard lobe, followed by a tragus hoop and a helix crawler piercing. The chain attached to the stud gives the feel of a hoop or a dangly earring which amps up the elegant look.
Whichever stacked earring style you choose to work with, let it be a reflection of you and your story / personal style.
SHOP SEGMENT AND EAR PIERCING JEWELRY BELOW
---