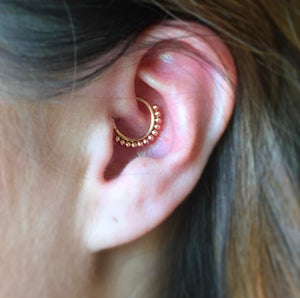 The Daith Piercing
The Daith is a popular body piercing trend and you will find both men and women opting for these piercings. This is an ear piercing which passes right through the innermost cartilage fold of the ear, called the crus of the helix. It is situated in a curvy and awkward place and a straight hollow needle is generally used in the piercing.

Many consider this to be a very painful spot for a piercing but in recent years, there has been interesting recent discussion and debate around whether daith piercings help relieve migraines.

Daith jewelry options

While their currently lacks conclusive medical evidence that supports this particular theory, it's not difficult to understand exactly why so many migraine-sufferers are choosing to get daith piercings done. Regardless of the reasons for getting this specific piercing, if you are looking for some interesting jewelry to use in it, you will find there are a number of designs and styles to choose from. Let's take a look at the different Daith piercing jewelry options you can choose from:

Daith hearts- Many people like to wear these heart-shaped designs in their daith piercing. These are available in a range of metals, colors, and styles you can choose from; pieces with and without precious stones. You can also choose from left and right ear options as the design may be based on the ear you are wearing the jewelry in.

Clickers- Most people associate the use of clickers with the septum, but the fact is that they are perfect for your daith as well. Those that use these prefer them because they are very easy to change. These pieces of jewelry are available in a range of intricate designs and styles and many also have semi-precious and precious stones in the setting. You can choose from metals and stones of different colors and hues.

Curved-style barbells- These are an excellent choice if you are considering interesting jewelry option for a new daith piercing. These are inconspicuous and serve the purpose of ensuring the piercing doesn't close up, which makes them a great option if you need to keep your piercing hidden for a sport or while at work. The only part of the barbells that will be seen are the beads.

Hoop-style jewelry- These are an extremely versatile type of jewelry that look great in just about any body piercing. You can choose from styles such as hinge rings, captive bead rings, and segment rings and from various colors such as yellow gold plating, rose gold plating, titanium etc.



For the last 16 years, we at BodyJ4You have been blazing trails in the high-quality fashion and body jewelry space. We are the go-to online store for all types of body jewelry, stretching & piercing kits, plugs, tunnels, the latest cufflinks, choker necklaces, men's stainless steel bracelets & necklaces, genuine leather cuffs and more. Feel free to browse our website; create your online account and start shopping on BodyJ4You today.



---