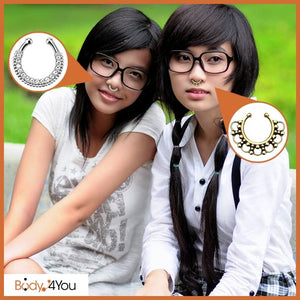 The Most Popular Body Jewelry and Piercing Trends This Year
As 2017 come to a close, we thought we'd look at the most popular body jewelry and piercing trends that made a mark this year and also appear to be headliners for 2018. Piercings are one of the easiest ways to keep your finger on the most current fashion pulse. 
It's great to be innovative and display your creativity in the way you present your unique personality to the world. Many people do this by following the latest trends in clothing, makeup, and hairstyles etc. but if you want something more permanent and impactful, piercings are the best way to go. 

Trends to look out for
Being in sync with the latest piercing & body jewelry trends doesn't always mean you need to get new piercings. If you are perfectly happy with the number of piercings you already have, there are numerous ways in which you can incorporate various trends only by using some new jewelry. But if you have no qualms about getting some new piercings done, it opens up a world of new, head-turning trends for you. 
Navel piercings- These have been going strong this year and seem to have made a classic comeback after taking a short break from the body piercing scene. But now, more young as well as middle-aged women are gravitating towards navel piercings- once again. 
Hoops and asymmetrical earring styles- This trend made it big in 2017 and is a continuation of their popularity in 2016. Small, dainty hoops look traditional and eclectic all at once. You see both men and women sporting earrings in asymmetrical styles and this look goes well with chic and modern clothing.  
Septum clickers- Plain surgical steel beaded septum rings are a thing of the past. These pieces of jewelry are now taking on a more ornate form and are embellished with filigree work and embedded semi-precious and precious stones. 
Minimalist stud sequence- Wearers are now putting on many of the same studs in a diameter range that's in the ascending order. This can be done in any section of the ear that is able to hold three/more piercings but look particularly arresting when worn on the inner helix.
Earring jackets- This jewelry has been around for quite a while now; but it has made a major revival with wearers who prefer a minimalist look. The ear jacket has a small stud on the front of the lobe, and its bedazzled side dangles and peeks out from behind. 
Medusa-septum combo- Medusa piercings fit in the little dip just above the top lip, and now wearers have caught on to the design idea that a Medusa stud complements a septum clicker very well; you can get these in coordinating tones and stones. 
For the last 16 years, we at BodyJ4You have been blazing trails in the high-quality fashion and body jewelry space. We are the go-to online store for all types of body jewelry, stretching & piercing kits, plugs, tunnels, the latest cufflinks, choker necklaces, men's stainless steel bracelets & necklaces, genuine leather cuffs and more. Feel free to browse our website; create your online account and start shopping on BodyJ4You today. 
---